AxisPro Proportional Valves – Based on proven KB servo proportional valve technology, Eaton's next generation AxisPro® proportional valves provide multiple levels of performance for a wide range of applications;
Directional Control Valves – Easy to install on industrial standard surfaces, Eaton DG directional valves provide three-way or four-way control of hydraulic cylinders or actuators;
Proportional Flow Valves – With external electrical wires housed within a closed enclosure, Eaton Proportional Flow Valves improve moisture resistance;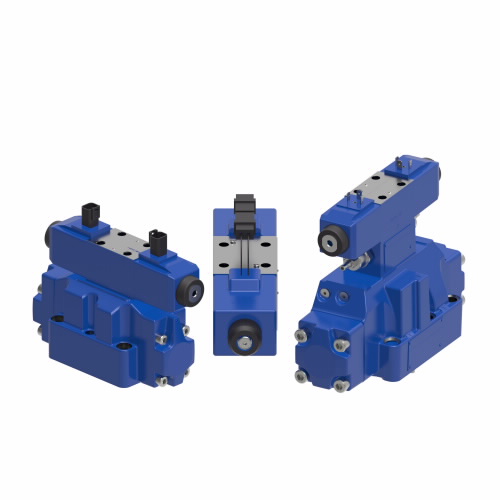 Proportional Fuse Electronics – Eaton's proportional valve electronics features easy-to-use LED front panels and a variety of system feedback displays to control systems with precision and accuracy:
Servo Valves: Eaton Servo valves are the perfect solution for closed loop control applications. They provide systems with precise positioning, repeatable speed and predictable power;
System Stak: System Stak provides a full range of supplemental pressure, flow and check valve functions, while saving space, reducing installation costs and increasing efficiency in hydraulic systems;
Sub plates and bolt groups.
Eaton moving valves | Eaton mobile valves are a reliable solution for mobile machinery in a wide range of industries. Scope includes:
CLS Load Sensing CT Mobile Valves: Eaton CLS Load Sensing CT Mobile Valves are a range of pre- and post-compensation mobile valves with a highly versatile design;
Advanced CMA Movable Valve with Independent Measurement – The Eaton CMA valve features built-in electronics and advanced software algorithms;
HRC4, HRC2 and HRCP hydraulic remote controls;
VLC, VLE and VLH priority load sensing valves.
Eaton Threaded Cartridge Valves | providing a reliable solution for mobile machinery in a wide range of industries. Scope includes:
Check Valves – Direct or pilot operated check valves for cartridge or inline hydraulic circuit applications. Choose from simple and inexpensive bearing hardware to optional adjustable bypass versions;
Coils – Control the opening and closing of solenoid valves and proportional valves using a quick-change zip coil featuring the Eaton Tough Coil Series;
Directional Control Valves – choose from a variety of manual control options to meet your design needs, including rotary, lever, push and pull valves, or choose hot oil or push-pull shuttle valves;
Flow Control Valves – Eaton's flow control valves accurately calculate temperature, pressure and flow rate for efficient handling of every application, whether the hydraulic system requires compact, pressure-equilibrated threaded vent cartridge valves or a more specific set of features;
Logical Element Valves – Designed to provide complete control of pressure, flow and direction, Logical Element Valves cover a wide range of pressure ratings and applications;
Motion Control Valves – Improves machine stability and efficiency while eliminating valve noise. The range includes standard, partially balanced, fully balanced and differential-free differential designs;
Pressure Control Valves: A wide range of manual or pilot operated pressure control valves for hydraulic systems. Eaton pressure control valves are ideal for applications requiring load retention, numerous guide ratios, efficient control and excellent stability;
Proportional Valves – Get smooth, precise control of your pressure and flow applications with Eaton Threaded Cartridge Proportional Valves (SiCV). When applied in conjunction with Eaton Logic Element Valves and other SiCVs in a custom manifold assembly, Eaton Proportional Valves create an efficient and reliable hydraulic system.
Solenoid Valves – With superior inlet protection and unprecedented performance, Eaton solenoid valves provide ultimate flexibility and control in your hydraulic systems.